About The 20 Largest Mattress Manufacturers
Updated April 22nd, 2022
Throughout this website, it is often mentioned to avoid "major" mattress manufacturers. This is primarily due to a clear lack of transparency about the quality and specifications of the materials used in their mattresses vs. smaller independent manufacturers that make similar mattresses with the same or better quality, who are transparent about their materials and designs, and oftentimes sell for better prices. This article will give you a better idea of who the largest 15-20 manufacturers are, which manufacturers to avoid, and some who are possibilities in terms of their transparency, quality, and relative value.
The list below presents estimates developed by Furniture Today through a review of materials sent to the publication and a survey of bedding producers and suppliers.
The two mega-corporations Tempur-Sealy International, Inc. and Serta Simmons Holdings LLC represent 45.4% of mattress sales for the entire industry.
According to Furniture Today's statistics and ISPA 2020 Annual Report, these top 15-20 represent 66.7% of market bedding dollar-shipments or all sales in 2020. Other producers saw a percentage increase from previous years to a 33.2% high.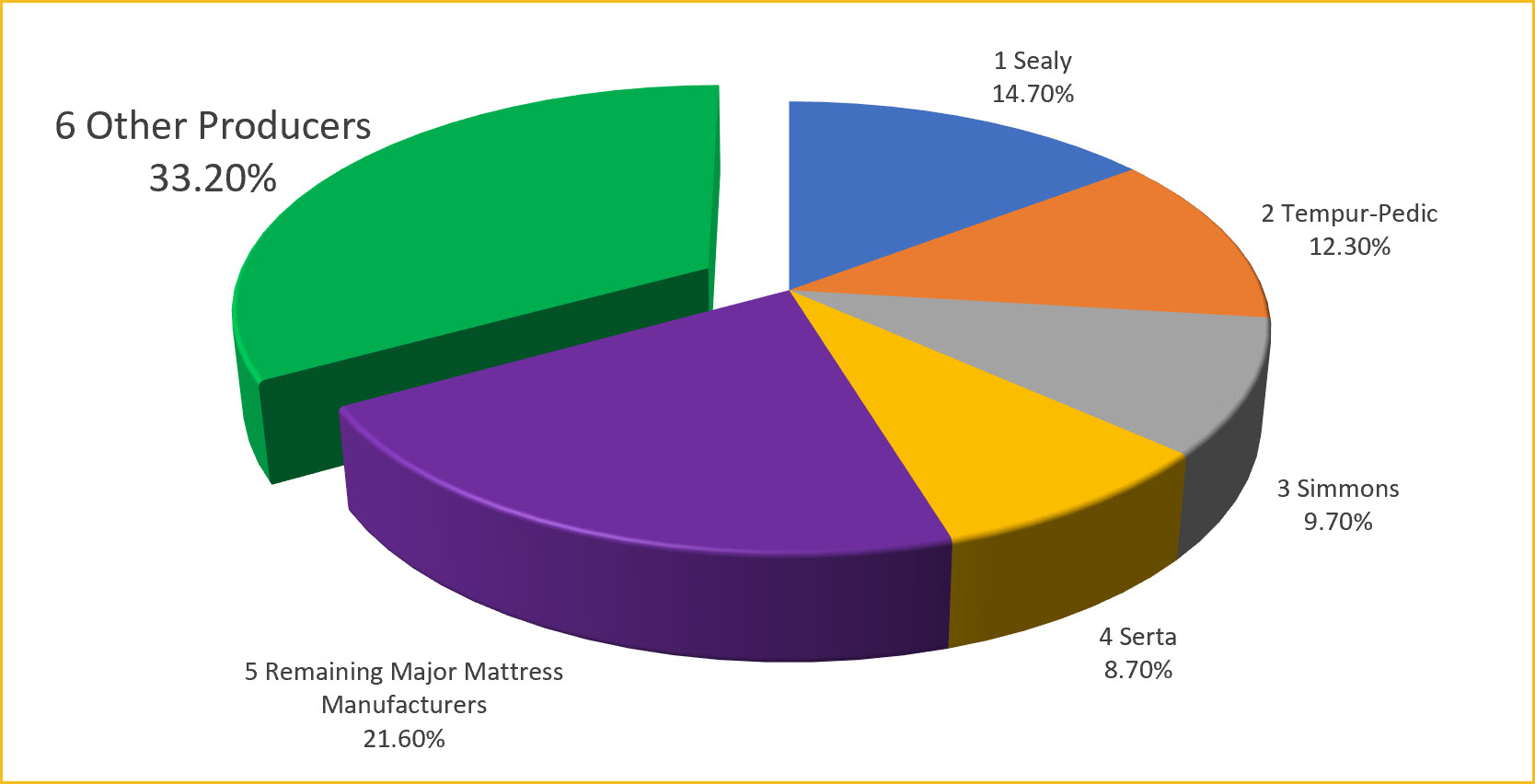 The "Other producers (33.2%)" consist of hundreds of smaller manufacturers, most of who lack a massive advertising budget, and sometimes are only available locally or regionally.
One of the goals of this website is to help consumers identify and find the manufacturers who are open and transparent about the materials in their mattresses and are focused on making and selling higher quality and value mattresses.
---
LISTING THE TOP 15-20 MATTRESS MANUFACTURERS:
Beyond these top 15-20 manufacturers, there are hundreds of smaller local or regional manufacturers or in some cases national online brands, which are well worth considering if they are fully transparent about the materials they use in their mattresses. Many of these independent manufacturers provide better quality and value for consumers.
Most importantly, knowing the specific details of the materials and components in a mattress and making "mattress to mattress" comparisons is the only way to make meaningful comparisons. Blind purchases in which you know little to nothing about what's inside the mattress should always be avoided regardless of which manufacturer makes the mattress.
Spending your valuable time with more transparent manufacturers, or with retailers who will provide you with the needed information will save you a great deal of time and frustration. Transparent bedding companies are more deserving of your time and effort because they are saying, "Consumers deserve to know what they are buying".
Based on the Furniture Today publication of June 21, 2021, below is a list of the top 15 mattress manufacturers in the bedding industry in the year 2020. A brief description of each one and a note on the product range as categorized by common industry nomenclature is summarized and accessible by clicking the information icon for each of the manufacturers in the table below.
Additionally, at TMU we came up with the "TMU Assessment Criteria" to give our consumer subscribers better guidance and information about what one may encounter and experience with the Top 15-20 manufacturers. These assessments are based on our years of experience writing about the mattress industry as well as the input from our many advisors and contacts within the mattress industry.
TMU Assessment Criteria
Code
Definition & Terminology
Specification Transparency
S - T
Provides detailed information re. the composition of the components used in its products. (Examples - Density/

ILD

of Foams, Quantity of coils, Component Thickness)
Component/Quality Control System
C/Q CS
Mattress product consistency from internal Quality Control Systems & Quality of Components used vs. warranty
Price/Value
P/V
Consumer Price relative to component cost vs. comparable products available
COMPANY

2020 Shipments
Million $
% change
vs Prior Year
Info

S - T

C/Q CS

P/V

Sealy
$ 1,646
+14.60%

Tempur-Pedic
$ 1,378
+23.50%

Simmons
$ 1,094
-11.00%

Serta
$ 974
-19.00%

Sleep Number
$ 669
-1.50%

Ashley Furniture
$ 425
+15.80%

Therapedic
$ 184
+8.00%

Corsicana
$ 320
+7.70%

Restonic
$ 149
+15.80%

Sherwood
$ 140
-9.70%

Symbol
$ 125
-9.40%

Kingsdown
$ 98
-4.90%

Englander
$ 95
-14.40%

E.S. Kluft
$ 94
-17.80%

King Koil
$ 91
0.00%

Select Comfort
$ 87
?

Spring Air
$ 72
?

Southerland
$ 50
?

Boyd
$ 44
?

Eclipse
$ 40
?

Paramount
$ 28
?
RETAIL PRICE POINT
Product Line Price Range
Queen Min
-
Queen Max
Promotional
$ 199
-
$ 600
Premium
$ 600
-
$ 1,299
Luxury
$ 1,300
-
$ 2,699
UltraLuxury
$ 2,700
-
$ Higher